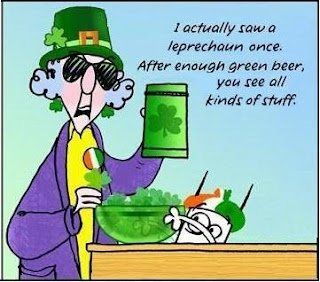 I don't like beer. I haven't liked it since 1988 when I was drinking Budweiser products at the basement of the Sigma Chi house at UW:Madison. It isn't snobbery, I'm just not a fan of the taste. I've struggled over the years to properly celebrate St. Patrick's Day without drinking Guinness, Harp or the gawdawful green beer.
Then I met my husband and everything changed. My husband's ancestors are known as 'Wine Geese." What are Wine Geese? Well it comes from
Wild Geese
, which refers to exodus of Irish soldiers to France at the end of the 1600's following the Willamite-Jacobite war. The damn Catholics and Protestants always fighting. Catholics were forced to skip town.
Wine Geese refers to Irish emigrants who became involved in the wine trade in other countries.
My husband's family went to Bordeaux. Sadly, we are too distantly related to them to even get a free bottle! Notable Irish Bordeaux wineries include:
Lynch-Bages
,
d'Yquem
,
Leoville-Barton
,
Chateau Dillon Margaux
,
Phelan-Segur
and
Kirwan
. Try them all. They are all awesome.
Australia has a fair share of Wine Geese too. A lovely wine region in Australia, Clare Valley (named after County Clare in Ireland), is home to
a world-famous Shiraz "Armagh"
which is produced by Jim Barry winery. It is a favorite of mine, if on an expense account, as Armagh is from where my grandfather hails.
In the US,
Chateau Montelana
, who won the very famous Paris 1976 wine contest that put California wines on the map, is owned by the Barret family.
Concannon Vineyards
, run by the family of the same name, is reportedly the longest running US winery. Note to drinkers of the dreaded White Zinfandel: Concannon also owns the Glen Ellen winery which makes a White Zin.
Murphy-Good
(try their Zinfandel and Claret) and
Sequoia Vineyards
are also run by Wine Geese families.
Chile and South Africa also have their fair share of Wine Geese, but I've not sampled any of their wines, so I am hesitant to give a shout out. So if you don't like beer or Irish Whiskey for that matter, don't go for that silly dyed green Cosmopolitian on St. Patrick's Day. Reach instead for a delicious glass of Irish wine.
Image
via